Neogames' latest game industry report was published 16.5.2023 and covers the years 2021 and 2022.
In 2021 Finnish Game Industry surpassed first time €3 billion turnover. Combined turnover, both in 2021 and 2022 was €3.2 billion. The number of active studios increased to 232.
At the end of 2022, the Finnish Game Industry employed approximately 4,100 people, 30% of whom were foreign citizens working in Finnish studios in Finland. The total number of employees has increased by 500 from the last report (2020). The share of foreign employees has also slightly increased (2020: 28%).
The increase in jobs and foreign employees in 2020 to 2022 was significant, especially as a significant part of the growth took place during pandemic. Finland is globally a very attractive centre of game industry. Sourcing experienced professionals locally has been and remains one of the greatest challenges facing the Finnish Game Industry. According to our survey, remote work practices learned during the COVID-19 will continue even after the pandemic. Approximately 35% of game industry employees still work primarily remotely. The share of women working in the industry remains in 22%.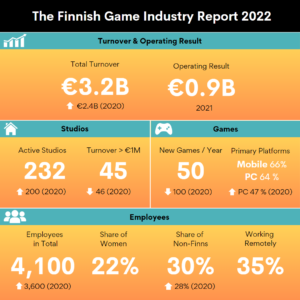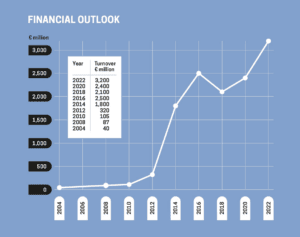 In 2021 and 2022, approximately 50 new games were published per year. Compared to the number of studios (232 at the end of 2022) this is a relatively small amount, and is mostly a reflection of the fact that a large portion of games now have a longer lifespan as services, as opposed to the traditional model of single published titles. Studios focus more on further developing what they have already put out rather than bringing out entirely new games. The challenges in the mobile game market are also reflected in the popularity of development platforms. Finland is known as a developer of mobile games, but PC is now almost as popular a platform (64%) as mobile devices (66%). Multi-platform game development is common in Finland, with 59% of studios developing games for two or more platforms.
Companies operating in the Finnish Game Industry
Neogames Finland collects information about companies and entities operating in Finland in the field of game development. We update the list on a regular basis. To add your company on the list or amend existing details, please contact Koopee Hiltunen by email (koopee@neogames.fi).
The following details will be required to add a new company on the list:
Company name
Industry (Game development / Consulting / Education / Regional Organization / Other)
Platform(s) / Speciality (Mobile, PC, Console Games, Online, Legal Services, Publishing, Business Consultation, R&D, Other)